Gandha Bherunda Narasimha is a combination of bird and animal with two heads, and is said to have manifested from Lord Narasimha in his post-destruction pastime of killing Hiranyakasipu, when He would not control his anger.
It is a depiction of a two-headed garuda (a mythical bird) holding lions with its beak and elephants with its claws.

Guruji Sri Narendra Babu Sharmaji narrated the story of this Mythical Bird - Ganda Bherunda in his Sandhya Vandane Programme.
Before going further, read this post on Sri Sarabeswarar Temple – Thirubhuvanam.

The Story goes like this...
Narasimhavathaaram by Lord Vishnu was taken to destroy the asura Hiranyakasipu, who was filled with haughtiness proclaiming himself as God. Asura samharam was over. But Narasimha's anger didn't abate. The Universe couldn't bear His anger.
The 'devas' appealed to Lord Shiva. To appease Narasimha's anger, Lord Shiva assumed the form of a bird Sarabha. This form comprises the forms of an animal, human and bird – the face of a yali, human body and the form of a bird. The form of Narasimha consisted of a human body and the face of a lion. Kaali and Durga became the wings of Saraba.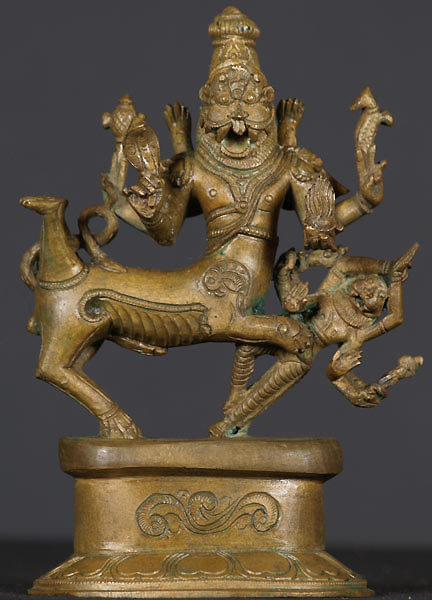 Bronze Sarabha Murti



Lord Sarabeswara lifted Narasimha to space, drew out the asura blood (Hiranyan's) and pacified him. He took him to space because even if a drop of asura blood fell on the earth, it would lead to the emergence of many asuras. So, Lord Sarabeswara took Narasimha above the gravitational sphere to prevent his blood falling on earth. The form of Sarabeswara comprises four Gods – Shiva, Kaali, Durga and Vishnu.

Now again the problem arises, To destroy the Asura Hiranyakasipu, Lord Vishnu (The Preserver) had took Narasimhavathaaram. To destroy Narasimhavathaaram, and to bring back Lord Vishnu to normal, Lord Shiva (The Destroyer) had to take the form of a bird Sarabha which was explained above.

Now all the 'devas' appealed to Lord Brahma (The Creator). To appease Sarabha's anger, Lord Brahma took the form of a bird Ganda Bherunda to bring back Lord Shiva and Lord Vishnu to Normal.
This Ganda Bherunda form of Lord Brahma made it.
This is the story behind Ganda Bherunda - The Mythical Bird which was narrated by Guruji Sri Narendra Babu Sharmaji.